Book: RIGHT Diet for Autoimmunity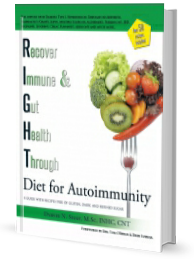 An awareness of what is put into your mouth is the first step of getting healthier. Every bite of food can be either healing or harmful to you, and the choice is …. yours. What will you choose? Relearn how to make the improved healthier versions of your favorites and experience a reduction of chronic inflammation, digestive upsets, migraines, brain fog, anxiety, and much more. The elimination diet journey is a bio-individual path that leaves you lighter, healthier, and happier. Explore these healing recipes to start your journey to the new and improved you!
This book was created for anyone wanting to know which foods may be more beneficial with regards to chronic inflammation which affects all of us – but especially those with any type of autoimmunity.  Click here for more information….
Darshi's Other Recommendations:
Here is a list of my recommendations for products I discuss in my health coaching or in my book.  I've made it easier to find by centralizing a location for my favorite products which help us be healthier.