Spinach consists of iron and vitamin C and is anti-inflammatory food.  Mushrooms consist of vitamins B12 & D and provide immune support.  Both are reputed to be anti-cancer foods.  Almonds consist of LDL cholesterol lowering minerals and an alkalizing effect on the blood's pH.  The combination of these flavors creates a smoky "cheesy" ravioli filled with an aromatic Italian flavor.  There is a wholesome taste and energy from a meal made entirely from scratch that is not filled with preservatives.  Try and see for yourself.  The pasta recipe is a Paleo recipe which I have used to make ravioli, but could also be used to make other pastas.
PALEO PASTA INGREDIENTS
2/3 cup arrowroot powder (+ extra for kneading)
1 cup almond flour
1 cup tapioca flour
2 teaspoons sea salt
2 large eggs
4 egg yolks (from large eggs)
2 Tablespoons olive oil (for cooking the pasta)
FILLING INGREDIENTS
5 baby Bella mushrooms, diced
¼ onion, diced
2 cloves garlic, minced
1 Tablespoon olive oil
¼ cup cashews, soaked 1 hour
1 cup loosely packed fresh spinach
2 Tablespoons nutritional yeast
1 Tablespoon water
Salt to taste
Black pepper to taste
PESTO INGREDIENTS
2 cups packed fresh basil or spinach leaves
½ cup pine nuts toasted
¼ cup GO VEGGIE soy topping
3 Tablespoons EVOO
2 Tablespoons water
½ teaspoon salt, to taste
½ teaspoon black pepper, to taste
METHOD
Make the "cheese" like ingredient for the filling first by combining the cashews, nutritional yeast, water, salt, and pepper to a food processor and process until a thick consistency is achieved (ricotta cheese-like). Save this "cheese" for later.
Begin the filling by heating the olive oil on medium heat in a sauté pan.
Add the onions and sauté for a minute.
Add the mushrooms and garlic next, and continue to sauté until tender stirring frequently.
Add the spinach, and sauté for a minute. Turn off the heat.
Add the "cheese" to the filling, and mix evenly.
Make the pesto by processing all the pesto ingredients in a mini-blender or food processor until smooth.
Store the pesto in an air-tight container ensuring a small layer of EVOO stays at the top.
Begin the pasta dough by pulsing the dry ingredients in a food processor for about 20 seconds. Place the dry ingredients in a large mixing bowl and make a well in the center.
Add the eggs and yolks to the well and begin whisking the eggs with a fork. Start pulling the dry mixture in with the fork and combining with the egg until it is partially combined (you will combine it fully when you knead the dough).
Turn the dough onto a flat working surface lightly dusted with arrowroot powder. Hand knead the dough for about 5 minutes until it is smooth (it will be sticky at first). Dough may need to be adjusted depending on kitchen temperature and elevation.  If the dough is too dry you can add a tsp. of olive oil or water to the mixture. If it is too wet add 1 Tbsp. of almond flour at a time until the desired consistency is reached.
Divide the dough into 8 balls and make sure to keep the dough wrapped in plastic wrap until ready to use it or it will dry out.
To roll the dough by hand, sprinkle the workspace with some arrowroot powder and gently roll out the dough with a rolling pin until the dough has reached your desired shape and thickness.
Cut off edges forming a perfect rectangle.
Place rectangle on a cookie sheet lined with parchment paper.
Place rows of spoonfuls of filling on this rectangle of flat dough.  Keep 2 inch of distance between spoonfuls for cutting the ravioli squares.
Make another rectangle of dough by rolling another ball of dough and cutting off edges until it forms an identical shaped rectangle.
Place this rectangle dough over the one with the filling.
Using your fingers ensure the pocket of filling does NOT contain air and is stuck to the top rectangle cover.
Using a pizza cutter, cut 1 inch rows after each pocket of filling. Next cut 1 inch columns after each pocket of filling.  This should create approximately 8 raviolis, already lined on parchment paper.
They are ready to be dried now. This can be done at room temperature over several hours, or in a warm oven for 25 minutes.
Continue using all the dough to create raviolis in this fashion. And dry all of them for maximum success in solid raviolis without holes.
Place a medium saucepan of water on the stove to boil. Add 2 Tbsp. olive oil to the water (this will help prevent the ravioli from sticking to each other while cooking).
Gently place the ravioli into the boiling water, 8 at a time. Cook for about 2 minutes and they should be floating at this point ("Al dente").
Drain them and place in serving dishes.
Top with basic pesto sauce and garnish with parsley and red chili oil.
For a creamier sauce, add some of the boiling water for the pasta to the pesto sauce on your plate and mix in with the raviolis.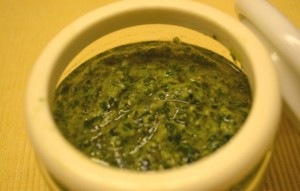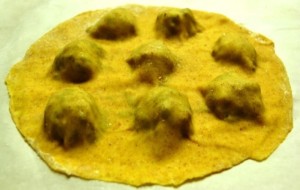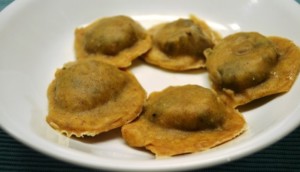 Disclaimer
These recipes are copyright @2014 NutriLiciousRecovery.